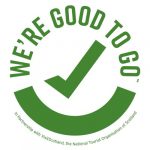 The good news is we will be opening shortly for guests in the next couple of weeks.  This will be around mid-May
You can already make bookings via our web site, our 3rd party booking partners and by contacting us directly.
Our facility will be following all Covid-19 regulations and guidelines.  We will add more details on our web site shortly, and in the meantime, if you need more information, please don't hesitate to get in touch with us, or if you have any further questions.
We are currently finishing off repairs and upgrades to our facilities to ensure your stay is safe and comfortable.  This has delayed our full opening for a short while, but we are working hard to complete these works as soon as possible.
We encourage you to book as soon as possible to ensure you can stay over the dates you require.  We are taking bookings via the Visit Scotland web site (Free To Book) and Booking.com.
There will be changes to your stay, in line with new regulations and guidelines.  Full details will be provided with your booking confirmation or shortly before you arrive.
Remember this is a fragile island community and this requires additional measures to make sure that Covid-19 is kept under control.  So some extra Covid-19 measures maybe enforced to ensure our community remains safe while you visit.
We really look forward to any stay you wish to join us for.  And we still offer free booking changes and full refunds on any booking made.
However, we may charge a handling fee, if you cancel or alter your booking within 3 days of arrival.  This is because this is an island and we may have made special purchases in order to handle your booking (like special diets).  This is an island and special arrangements cost us and our suppliers in order to organise and deliver here.  These costs are typically non-refundable and unfortunately we have to pass these additional costs on against short notice changes and cancellations.  We will do our best to absorb such costs, but this is not always be possible.
As normal, if you have any Covid-19 symptoms, please contact us as soon as possible and we ask you not to turn up without prior discussions.  We reserve the right to see any Covid-19 tests prior or upon arrival.  Lateral-flow tests are free and you should send samples off for testing 3 days before arriving in Orkney and the day before too.  This in line with all arrivals into Orkney, either by air or boat.  We may take your temperature at arrival, and at intervals during your stay.  We may also ask you to take additional lateral-flow tests during your stay, so please make sure you have additional test kits with you during your stay.
More information will be displayed via this web site, so please visit regularly for any changes regarding a visit here.