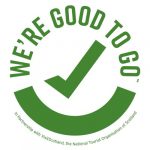 As Scotland moves towards a release of the lockdown, we are preparing to accept guests for B&B accommodation.
We are changing our procedures in line with all relevant standards, to ensure your and our safety.  And full details will be made available with the changes to our Terms & Conditions, as soon as we are ready.
There will also be new welcome pack issued to you before arriving, detailing what will now be happening while you are on site.  For example the change with our procedures for having our great breakfasts.
Before you arrive, we will require the contact details for all members in your party, not just the lead guest.  So please be prepared to supply such information in advance of your arrival.
We have completed the 'W're Good To Go' registration with Visit Scotland and Visit Britain, so you can be assured of our continued work towards a clean and safe visit to our accommodation facilities.
If you have any questions, please feel free to contact us here.