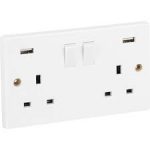 Further our continual upgrade program: We have added more USB Power Outlets in all guest areas.
Additional USB power outlets have been installed in guest areas, making it even easier to power or charge your USB devices without the need to use a power charger 'brick' or 'wall wart'.
Each socket proves both 1.5A and 2.1A charging/power capabilities.  Allowing you to select the most appropriate charge rate for your device.  Use your normal USB charging cable without the brick to take advantage of this facility.
For foreign guests: There is no need to use an adapter to match UK sockets, just plug in to the USB port on our specially adapted sockets and away you go.  If you are from the EU, you may also like to know about our EU Sockets.
ECO: These are also Eco friendly and consume absolutely no power when no device is plugged in, or once the connected device has achieved a full charge.  Unlike a normal charger which continues to consume some power in 'stand-by' mode.  Further enhancing our commitment to reduce our CO2 footprint.
For the safety of your equipment, we regularly test the output voltage of these power ports to make sure they are within accepted output limits.  And matched to the demands of modern electronic devices.