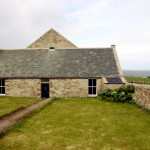 The Reid Hall at Braehead Manse is a modern accommodation facility located on the fantastic Orkney island of Westray.
We offer only Bed & Breakfast accommodation.
This recent and modern conversion offers comfortable accommodation for the discerning guest.  We are less than 1mile (1.6km) south of Pierowall village, making it easy to visit the village for the hotel or shops.
See our 'Facilities' pages for more information about what is available directly on site.